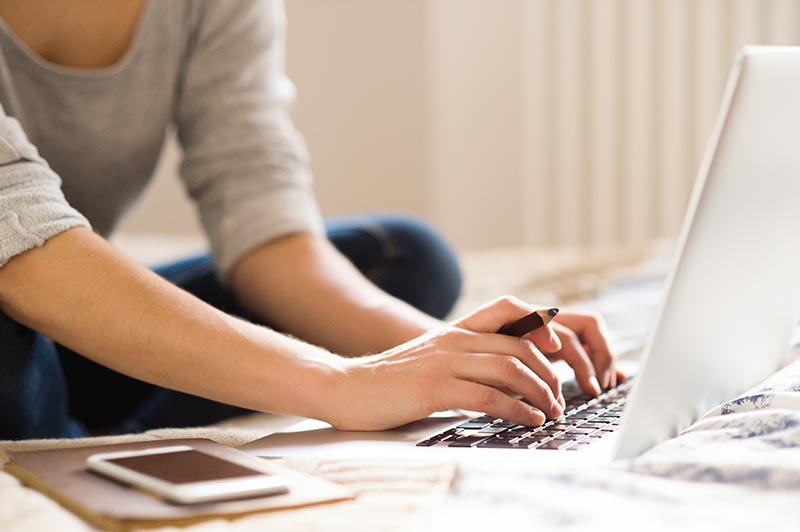 The world is a changing place and one that is certainly becoming smaller. Gone are the days when we were restricted to going to an office, factory or anywhere else for work. Location independent careers are becoming more and more popular and it's not hard to see why when you appreciate the freedom that it allows people.
So, what exactly is a location independent career?
The clue is in the name, it is a job or career that can be conducted from any location. These types of career open new options and opportunities. For some, they may see in as an opportunity to work on the move whilst others may enjoy travelling and not being restricted to one location. In reality, there are very few employers who would allow employees such freedom so the only option for the vast majority is to become a freelancer.
Without doubt, freelancing is not for everyone and it doesn't afford the same security as being in a regular 9-5 job. Individuals need to be dedicated and focused in order to achieve their goals and to maintain an adequate income stream. So, what are the best location independent careers that are out there at the present time?
Teaching Languages
Teaching languages is a great location independent job, especially if you can speak a foreign language on top. If like many, your foreign language skills aren't up to scratch then you could always consider Teaching English as a Foreign Language (TEFL). This is a specific qualification but one that can be obtained in most countries and is then transferrable.
Tutoring privately doesn't require any formal qualifications and is something that is highly sort after in many countries which naturally creates opportunities. This is a great way to create a sustainable income or alternatively a way to top up another income stream.
Writing
As the vast majority of writing is done online, the location of the author becomes irrelevant. There are several different writing jobs that are available. You can do blog and article writing, content for websites or just proofreading and editing to suggest a few options. This is something that can be done 'on the move' and is the perfect option for those who don't want to be stuck in one place.

Photography
If you are a talented photographer then the world really is your oyster. The options are endless as there is always high demand for such skilled individuals who can work on a freelance basis. You can even look to sell your photos via photo banks or alternatively work as a photojournalist. Thanks to developments in digital photography the need for a studio and developing equipment as long since been removed, thus further reducing any restrictions and creating a perfect location independent career.
Business Support
Business support may not be one of the jobs that immediately jumps out at you. However, when you consider much of the admin that is carried out in offices in done on spreadsheet or Word documents you start to realise that the opportunities are endless. Cloud sharing services such as Google Drive and Dropbox make this even more realistic.
Affiliate Marketing
Affiliate marketing has become increasingly popular in recent times with sites such as Amazon offering affiliate marketing programs. This way you earn a passive income although a fair amount of effort is required to ensure that site ranks above others. In reality, you need to pick a niche market that will have little competition if you really want to achieve your goals.

Web Design
Web design and development is certainly something that can be done remotely. The only requirement is to have a stable internet connection and a good quality laptop, then away you go! This is a great way to lead a nomadic lifestyle.
Sales
There are various online sales opportunities out there. The obvious ones are auction sites such as eBay but there are various other ways that you can make money. Digital marketing is one option but thanks to services such as Skype it is completely feasible to carry out virtually sales role that doesn't require face-to-face contact.
Retail and E-commerce
In a similar manner to the sales option mentioned, retail and e-commerce and very realistic ways of earning money online. The need for a physical shop has long gone as Shopify goes to prove. Little to no infrastructure is needed, just a well-designed website that has been suitably optimised should see dedicated individuals make some serious money.
Using Your Own Talents
If you have a particular skill that is transferable then why not use it? This could be craft-based, vlogging, playing poker or maybe even modelling. It is surprising how many people make excellent livings by doing just this. Indeed, there are now more 10,000 professional online poker players around the world, many of whom earn a living far higher salaries than those in 'normal' jobs.
Consultancy Work
Do you have a specific skill or and specialism that would be demanded by others? If you have, doing consultancy work can really pay huge dividends. Often consultants are in the engineering or construction business but it is by no means restricted to that. Once again, a lot of consultancy work can be done via Skype making it a truly location independent career.
https://thejourneytofreedom.com/wp-content/uploads/2017/09/home-office.jpg
532
800
the journey to freedom
https://thejourneytofreedom.com/wp-content/uploads/2018/01/freedom-logo.png
the journey to freedom
2017-09-22 04:19:00
2018-01-18 06:42:31
Top 10 location independent careers in 2018